JULY 21st DEADLINE to request an interview for the fall class (details below….) 
What is Peer Support?
When people who have had experiences with emotional distress or trauma and give each other encouragement, hope, assistance, understanding and to share resources to aid in recovery, it is called peer support. One of the most helpful things one person can say to (or hear from) another is "I've been there."
Certified Peer Specialists (CPS)
Have been trained to share their experiences in the mental health system and in recovery to effectively carry the message that "Recovery is Real!"  We share our experience, strength and hope with people using services, mental health professionals, policy makers and others in our lives.  A CPS can impact peoples' beliefs about their own capacity to recover and challenge assumptions about the capacity of others to recover.
Do I need to become a CPS to give Peer Support?
No! There are many more people offering valuable peer support than there are paid roles for Certified Peer Specialists. Certified Peer Specialists have attended a rigorous training that covers the fundamentals of peer support as well as addressing different perspectives, advocacy, and working as a change agent to improve the mental health system for all. Certification is expected in many paid peer specialists roles and yet many other peer support roles do not require certification.
Peer supporters may attend various other trainings and may receive certificates for different educational experiences, but are not Certified Peer Specialists.  Some peer supporters may lead groups or function in roles to assist others with warm lines, employment, computer training, art, to name a few.
Many of the roles and activities of peer supporters are the same as Certified Peer Specialists. For instance, both peer supporters and Certified Peer Specialists may choose to…
Facilitate support groups
Share resources about wellness with peers
Offer hope and inspiration
Talk one on one with an individual who has had a similar experience to provide support and hope
Volunteer at a warm line or hotline
Work at a Recovery Learning Community
Volunteer throughout the community
The Certified Peer Specialist (CPS) Training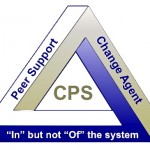 A rigorous training for people preparing for the Certified Peer Specialist role in the mental health system.  CPS is not an entry- level position and the training is not geared to people just beginning to learn about peer support work.
The CPS program includes classes that covers 24+ modules including small group activities and homework.     After completing the class,    students are eligible to take a written examination for the CPS Certificate.  Students demonstrate a host of abilities that are necessary in the Certified Peer Specialist's role, including:
Fundamentals of Peer Support
Cross-Cultural Partnering
Moving Through Fear
Human Experience Language
Upcoming CPS Training Classes
There will be three CPS Training classes in the coming year. The first is in Worcester in the Fall of 2017. The second is in the Northeast in the Winter of 2018. The third is in Boston in the Spring of 2018. (Northeast and Boston locations are to be announced.)
Class 1 – Fall 2017
Kiva Center
Central Mass Recovery Learning Community
 209 Shrewsbury Street
  Worcester, MA 01604
Class Dates: Sept 14, 21, retreat Sept 25-27, Oct 5, 12, 19, 26, Nov 2
Retreat:  Sept 25-27, Hampton Inn & Suites, 10 Plaza Way, Plymouth, MA
 Interviews are required and will be held in Worcester on July 27 & 28, 2017
DEADLINE TO REQUEST AN INTERVIEW FOR THE FALL CLASS IS JULY 21ST
Only Class 1 Interview Requests are being accepted now.
Check back for Class 2 Interview Requests in the Fall.
Download an application below for complete instructions.
Preparing for CPS Training
Tools to help you focus and assess your skills in one-to-one peer support, sharing your story to inspire hope and being an agent for change (click on the links below):
Tutoring
If you wish to schedule individual tutoring to re-take the CPS exam please email cps@transformation-center.org
Retesting
The next opportunities to take the CPS exam will be in September 2017.
If you wish to re-take the exam please email cps@transformation-center.org
Recent Classes:
Spring 2017-VINFEN TRAINING CENTER, Somerville  -completed Jun 2, 2017
Winter 2017-Cape Point Hotel, W. Yarmouth, MA  – completed Feb 17, 2017
Fall 2016-Holyoke Community College, Holyoke, MA  – complete Nov 16, 2016     
Spring 2016-Easton, MA  – completed May, 2016
Winter 2016-Lexington, MA   – completed Jun, 2016
Fall 2015-KIVA Center, Worcester, MA   – complete Nov 16, 2015  
Policy Manual
All the policies related to the CPS class, including the application process, acceptance process, class design and testing, are described in the manual.
Oversight Committee
The CPS Oversight Committee advises the CPS Training Program Coordinator regarding all aspects of the program, including curriculum, training and testing processes, policy and procedures, program evaluation, and meeting the needs of the community.
Membership is made up of people with expertise in education, research, testing, hiring and integrating Certified Peer Specialists into the public mental health system, CPS practitioners and persons with lived experience who are not CPS.
Oversight Committee Members June 2017
Minutes:
__________________
Contact:
Certified Peer Specialist Training Team at cps@transformation-center.org
The Transformation Center ~ 98 Magazine Street ~ Roxbury, MA 02118
Phone 617-442-4111 ~ Toll Free 1-877-769-7693 ~ Fax 617-442-4005